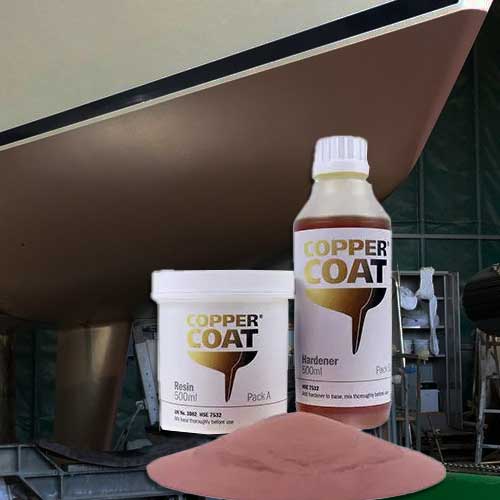 Antifouling Paint - Coppercoat
Coppercoat antifouling paint is a unique epoxy-based marine coating using 99% pure copper powder to prevent the growth of organisms such as algae, barnacles, and mollusks on the bottom of boats and other submerged structures.
It is primarily used to safeguard boat hulls from fouling, which damages the hull, increases drag, and reduces fuel efficiency.

The benefit of putting Coppercoat on your marine craft is that it remains effective for a very long time. It reduces the need for periodic repainting or other antifouling methods by offering protection against fouling for a considerable amount of time—typically more than 10 years. 
Each 1.5L Kit Contains:

1x Resin (Part A) - 500 ml 
1x Hardener (Part B) - 500 ml
1x Copper packet - 4.4 lbs ultra fine 99% pure copper powder
View the entire Coppercoat produce collection here > 
Have questions about your application or how much is needed for your vessel?
Contact our support team today:
(800) 567-5358
SOLD IN A 1.5 LITER UNIT KIT KIT THAT INCLUDES PARTS A & B ALONG WITH COPPER POWDER.  NO RETURNS FOR COPPERCOAT PRODUCTS.