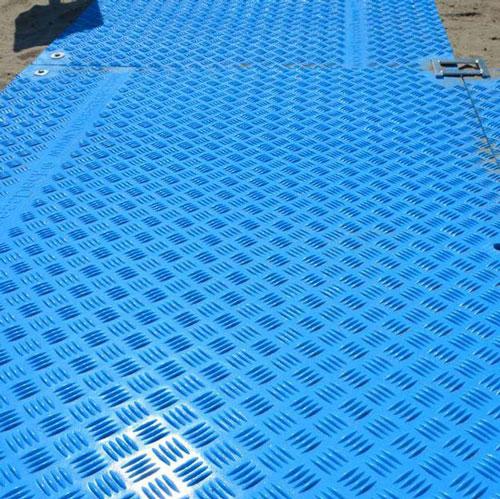 Ground Protection Mat 4ft x6ft Blue
Ground Protection Mats are constructed of durable blue-colored HDPE plastic.
These rugged mats are ideal for reinforcing the ground on unstable surfaces such as mud or sandy areas. They are commonly found at beachfront properties and resorts, providing waterfront access.
Each multi-purpose panel is an excellent temporary or permanent pedestrian pathway, wheelchair-accessible, and ADA-compliant. In addition, mats/Panels can be joined together to create decking or elongated paths. 
Size: 48" wide x 72" long x 1" thick 
Weight: 69 lbs/Mat
This dual-sided panel serves a different situation. One side has a tread that is ADA-friendly for wheelchairs and pedestrians. Simultaneously, the other surface provides additional traction to the ground, which is geared toward more considerable vehicle traffic, ATV, or mechanical equipment. 
Ground Protection Mats can be interlocked to create walkways or decking surfaces and are light enough to pick up and move when needed quickly. Connectors are sold separately.
Contact us with any questions; one of our product specialists will gladly assist. 
(800) 567-5358  2x PANEL MINIMUM QUANTITY PURCHASE REQUIRED.