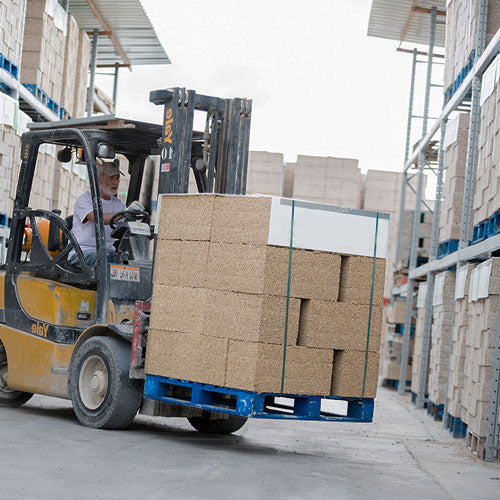 Hempcrete Blocks - 6in thick 81sf pallet
Preformed Hempcrete Blocks are the ideal non-load-bearing masonry product crafted to create healthy and natural insulating envelopes, partition walls, and counter-partitions. IsoHemp's remarkable versatility makes it the preferred choice for professionals in various construction projects, including new builds and renovations for single-family homes, collective housing, ADU buildings, and industrial partitioning.
Hempcrete has become popular as it's fire-resistant, a great insulator, and helps regulate humidity in buildings. Hempcrete is also 100% sustainable and made of plant-based natural components.
A Multitude of Applications:
The IsoHemp hemp block is perfectly suited for various construction purposes, including:
Residential Houses: Ideal for building new eco-friendly housing or doubling existing walls to improve insulation.
Industrial Partitioning: Provides an efficient and sustainable solution for dividing spaces in industrial buildings.
Apartments and Collective Housing: Ensures comfortable, non-toxic, and fire-resistant living spaces for multi-unit structures.
Commercial Projects: Excellent for humidity regulation in spaces with high humidity variations, such as archive rooms, museums, sports halls, and swimming pools/facilities. 
Embrace the future of construction with the IsoHemp Hempcrete Blocks, where sustainability, efficiency, and comfort harmoniously come together. Whether you're an environmentally conscious homeowner, a forward-thinking architect, or a responsible developer, the Hempcrete block is your key to a greener and healthier building experience.
Block Dimensions:  6" Thick, 23.6" Long, 11.8" Tall
Pallet Size: 81 sqft

View the entire HempWool Catalog >

Looking for a quote for your project? (800) 567-5358

Project Quote Form Here>