Fox Blocks Insulated Concrete Forms (ICF)
Fox Blocks Insulated Concrete Forms (ICF) are the premier energy efficient building material. The foam forms are becoming popular as structurally superior to traditional wood framed buildings and provide greater wind and weather resistance in storm prone areas. As ICF buildings are made of concrete they provide excellent sound proofing and privacy from neighbors while maintaining and average insulated R-value of 23 from its continuous insulation design .
Core ICF System
The ICF system is made of 5 core products with a number of accessories depending on your project needs. These forms made of Extruded Polystyrene foam
Light weight units make for easy transportation

Fox Blocks forms are fully reversible making making installation dummy proof

R-23, higher thermal value than traditional construction

Engineered internal ties allow for customization of rebar and wiring/utility placement

Mold resistant, Wind resistant, Fire resistant
ICF when complete produces durable concrete walls that last a lifetime and range in core wall thickness from 4 to 12 inches thick. Each product is interchangeable with other similar sized block forms.
What makes Fox Blocks so Popular?
6" Core Width Fox Blocks ICF
8" Core Width Fox Blocks ICF
Fox Blocks Core ICF Components
Straight Block
The Straight Block is the most used ICF in the system, accounting for 80-85% of the entire project ICF material.
Each straight form measures 16" tall and 48" long and is available in 4", 6", 8", 10", and 12" Core width wall sizes to accommodate your project needs. Fox Blocks are stacked and connected to enable a laser straight walls and together form a void where concrete is poured in. Each straight block is engineered with six high strength injection molded reinforcement braces that accept rebar block to block HV Clips, and any utilities to be placed on pre-pour.

Each form is made from EPS polystyrene foam (Styrofoam) and can me be flipped upside down or horizontally to fit with other blocks making for easy install.
90 Degree Corner Block
The 90 Degree Corner Block is 15-20% of the typical project. Each unit includes 6 plastic injected Polypropylene (PP) ties that hold the EPS together and provide rigidity to the form. The Corner Block has the special patent pending corner bracket made to join the inner and outer form walls together and eliminate potential concrete "blow outs" from occurring during the pour.

The Corners are available in 4", 6", 8", and 10" core width sizes.
T-Block
T-Blocks are typically around 1-2% of ICF materials on an average residential or commercial build project and though they are not the most common form type they serve an important function. The T-Block is designed to provide additional reinforcement to areas where an interior wall intersects with and exterior wall. By added additional rigidity in these areas you can both reduce the amount of physical wall bracing required and eliminate concrete fill blow-outs.

T-Block forms are available in 6" and 8" core width sizing.
45 Degree Corner Block
Corner 45' Blocks make up less than 5% of all ICF projects, but can be crucial in fabricating modern architectural design. The Fox Blocks system enables the builder to deliver on nearly anything the design team is able to throw out.

The Corner 45's are available in 6", 8", core width sizes.
Fox Buck
The Fox Buck product enables continious insulation of a home or building around cutout areas such as doors and windows. the 1" notches on each board allow concrete to fill inside the opening frame and enable greater defense against both moisture and draft penetration in these prone areas.
The Buck when implemented properly gives the builder and owner peace of mind that each building opening will maintain continuous insulation and maintain high insulation values.

Fox Buck is available in 4", 6", 8", 10", and 12" core width sizes.
Documentation and Installation Guides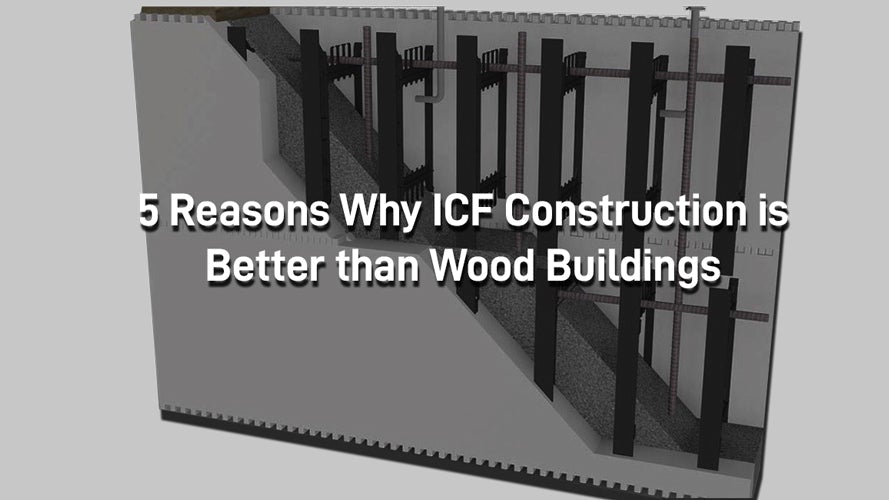 Jan 09, 2022 Jake Goodwin
ICF construction is excellent at insulating homes and reducing both acoustic noise and HVAC costs. ICF holds up against violent storms and natural disasters such as fires, earthquakes, and high winds. Structures that utilize ICF also last more than a lifetime.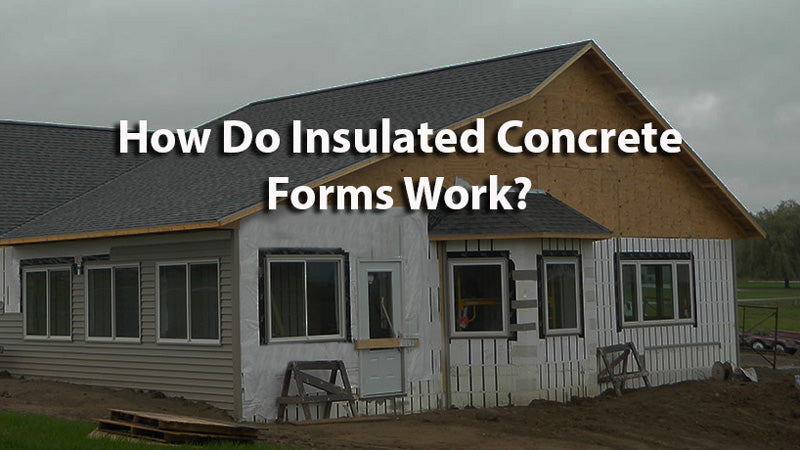 Dec 04, 2021 Jake Goodwin
Commonly used in residential and commercial construction, insulated concrete forms (ICF) are permanent polystyrene blocks that are filled with concrete to create extremely durable and thermally efficient walls. Insulated concrete forms are what keep a home stable, durable, and warm, but how do they work, exactly? 
Section
Drop element here!