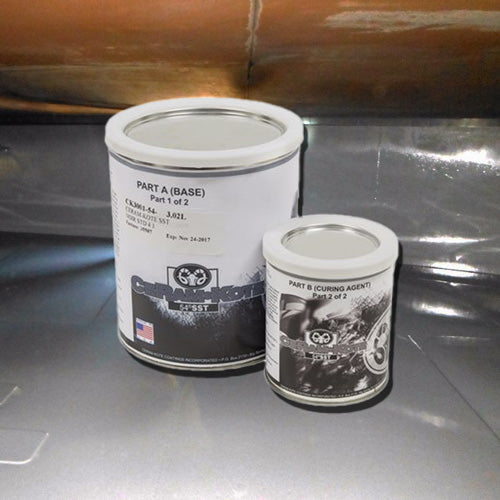 Ceramic Coating for wet or unprepped surfaces - CeRam Kote 54 SST
CeRam-Kote 54 SST is a ceramic coating designed for a broader range of surface applications. It is intended to be applied over wet, damp areas or marginally prepared surfaces. This also adheres to rusty steel surfaces.
54 SST can be applied over itself or as a primer under other high-performance coatings. It can be considered as a barrier coat or universal primer as well. This product is tolerant of semi-wet or damp surfaces and is suitable for use in USDA-inspected facilities.
This product is used as a maintenance coating to protect steel structures in industrial facilities, bridges, tank exteriors, marine weathering, offshore, oil tanks, piping, roofs, water towers, and other exposures. It has good chemical resistance to splash/spillage, fumes, and immersion in neutral, fresh, and salt water.
Extremely high adhesion to virtually any substrate (including marginally prepared substrates, making this product an excellent surface tolerant coating) combined with extraordinary mechanical properties make CeRam-Kote 54 SST a superior protective coating where high abrasion and severe corrosion problems exist
Applications:
Storage tanks
Oil tanks
Tank exteriors
Piping
Industrial facilities
Offshore platforms
Roofs, Bridges, 
Water towers
Marine vessels (hulls* / deck)
Have questions about your application.
Call our Customer Support team today: (800) 567-5358
SOLD IN A 1-GALLON UNIT KIT THAT INCLUDES PARTS A & B. 
Mix at 4:1, part A to part B by Volume, and 7:1 by Weight.