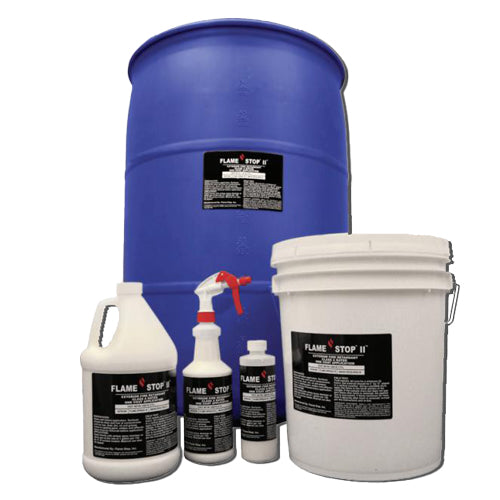 Fire retardant wood sealer 5 gal Flame Stop ii
It's essential to use an effective fire retardant wood sealer to protect porous wood such as Douglas fir, cedar shake shingles, decking, and other structural lumber. Flame Stop ii is the ideal Class A post-treatment fire retardant as its non-combustible, non-carcinogenic, and protects the wood against bacteria, fungus, and damage from pests like rodents and insects.
For most interior projects, the effective flame retardation is indefinite and lifelong; however, for exterior applications facing the elements, it's recommended that Flame Stop ii be reapplied once every five years.
The protectant uses a polymer-based self-extinguishing reaction when exposed to open flames.
Flame Stop ii can be sprayed on, immersed, or brushed, depending on your application preference. Once applied it dries clear and after it's cured for 48 hours can be painted with nearly all latex-based paints.
Tested ASTM E-84, NFPA 255, and UL 723 have provided a "Class A" Flame Spread index of 25. "Class A" is the best possible rating awarded to fire-retardant building products like concrete.
Does your project need a lot of product, then contact the customer support team today: (800) 567-5358
RETURNS NOT AVAILABLE FOR Flame Stop ii