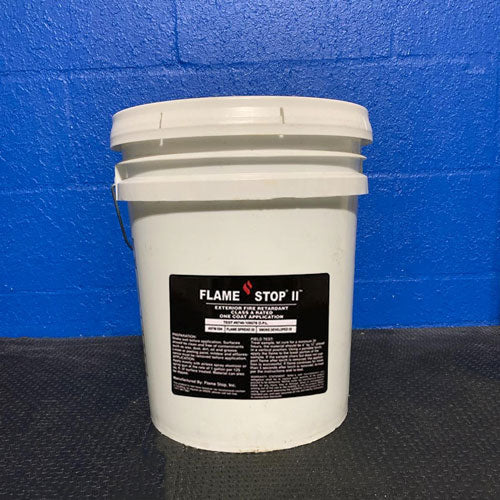 Flame Retardant Spray - Flame Stop 2
Flame Stop 2 flame retardant spray is ideal as a surface-applied coating for untreated wood. Applications include Pine, Douglas Fir, Cedar Shakes, Decks, Cabins, Support beams, and other structural lumber. By changing the composition of the wood surface, Flame Stop's flame-retardant coating for wood reduces the fire risk by self-extinguishing the flames that come in contact with the treated surface.
It serves as a barrier, slowing the burning process and thwarting the spread of flames, buying crucial time for evacuation and firefighting.

Flame Stop II is extremely popular for homeowners and businesses as it is non-combustible, non-carcinogenic, and shields the wood from bacteria, fungi, and damage from pests like mice and insects. And is sought after due to its Class A Rating as a post-treatment fire retardant.

Long Lasting
For interior projects, the flame retardant properties of Flame Stop II are typically effective indefinitely, providing lifelong protection. However, it is recommended to reapply Flame Stop II every five years for exterior applications exposed to the elements to ensure continued fire retardation.

This product offers versatile application options to suit your preferences. You can choose to spray, immerse, or brush it onto the desired surface. Once applied, it dries clear, and after a curing period of 48 hours, you can easily paint over it with nearly all latex-based paints.
Class A Fire Rating
Tested ASTM E-84, NFPA 255, UL 723 has provided a "Class A" Flame Spread index of 25. This is the best possible rating awarded to fire-retardant building products like concrete.

Find the entire line of Flame Stop Fire retardant products here >
Does your project need a lot of product, then contact the customer support team today: (800)567-5358
RETURNS NOT AVAILABLE FOR FLAME STOP PRODUCTS