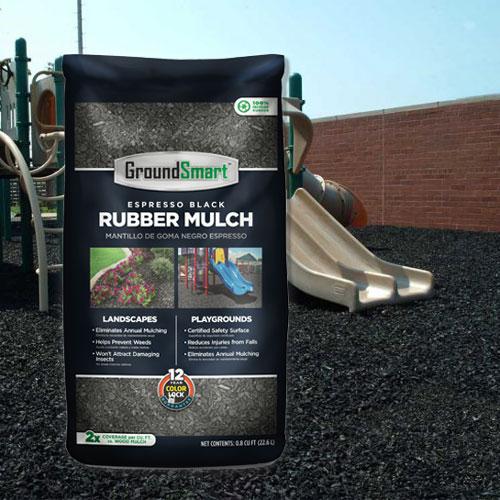 GroundSmart Rubber Playground Mulch Pallet - Black
GroundSmart Rubber Mulch is 100% recycled rubber for Playgrounds, Landscape beds, and obstacle training courses.  
This product is available in 2,000 lb pallet quantities. Each pallet is 50x individual 40 lbs/1.5 cu ft bags of Espresso Black color rubber mulch totaling 75 cubic feet of material. 
Rubber mulch is safe and non-toxic, low maintenance, and doesn't need to be replaced or refreshed for over 12 years. 
Playground Mulch Calculator:  Use the Mulch Coverage Calculator below to find out how much your project needs!
NOTE: IMC Outdoor living rubber mulch brands such as GroundSmart and NuPlay may have different bag packaging depending on the manufacturing facility. Though packing may differ, the rubber mulch product is manufactured the same. Mulch nugget size and color may vary from batch to batch.
FIND ALL OF OUR RUBBER MULCH PRODUCTS HERE>
Please call for more product details or to chat with a product specialist about your project. (800) 567-5358.
SOLD IN PALLET QUANTITIES ONLY.