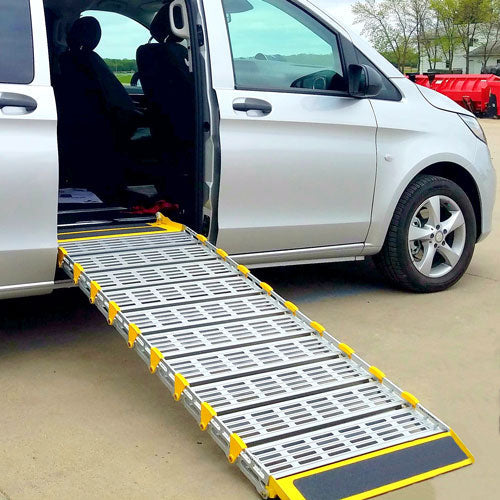 Minivan Ramp for Wheelchairs - Roll A Ramp
Roll a Ramp minivan ramps are designed for convenient wheelchair and scooter accessibility. The 26-inch wide ramp is designed for side entry doors with a minimum opening of 28 inches. The larger 30" wide ramp requires a minimum of 32-inch wide side door or can be installed on the rear door.

Minivan ramps are available in both manual fold and powered MiniFold options.

Manual Folding Ramps:
The manual folding van ramps install into many standard factory vans. A more cost-effective alternative to a fully converted accessible van. Operated by raising and lowering the ramp from a folding position to the ground. The manual ramp occupies approximately 10 inches deep and can be removed if more door space is needed.

Powered Folding Ramps:
The Roll a Ramp power folding ramps provide an alternative to fully converted accessibility vans. The powered ramps are operated with the push of a button and activate from an upright folding position inside the van down to the ground. The powered ramp has the option for a pendant cord or a wireless remote control system.

Features:

Strong: aerospace aluminum has a 1,000-pound capacity
10-Year manufacturers warranty on ramp (one-year manufacturers warranty on motor for powered systems)
Mounts to the floor for many standard vans 
Check the compatibility of your van before ordering.
1. Measure the door width and height
2. Measure the wheelbase of the van
3. Use the chart below to determine the proper ramp for your vehicle.
| | | | |
| --- | --- | --- | --- |
|  SKU | Style | Min Door Width | Min Door Height |
| MF26 | 6'x26" Manual Ramp | 28" wide  | 40" tall |
| MF26.7 | 7'x26" Manual Ramp | 28" wide  | 46" tall |
| MF30.6 | 6'x30" Manual Ramp | 32" wide  | 40" tall |
| MF30.7 | 7'x30" Manual Ramp | 32" wide  | 46" tall |
| MF1 | 6'x26" Power Ramp w/ Pendant Cord | 29" wide | 42" tall |
| MF1-R | 6'x26" Power Ramp w/ Remote | 29" wide | 42" tall |
Find the entire collection of Wheelchair and Scooter ramps HERE>
Don't hesitate to contact us with questions; our customer service team will gladly discuss your situation. 
(800) 567-5358