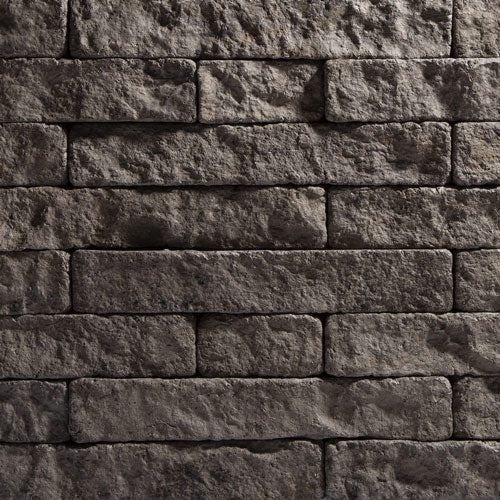 Evolve Stone District View Mortarless Stone Veneer Flats 14.25sf
Evolve Stone District View is the premier Mortarless Stone Veneer solution for home and commercial use. This faux stone is made from proprietary composite resin FRP material and can be installed without needing special masonry skills, as each stone can be placed on the wall using either a finishing nail gun or adhesive. 
These fake stone siding panels are nearly indistinguishable from the real thing. The Evolve Stone technology can be found in other noteworthy application sites such as Dick's Sporting goods, Seaworld, Busch Gardens, and National Zoos across America. 
Evolve Stone is durable, moisture impermeable, UV resistant, and ASTM testing has shown no effects when introduced to wind loading, freeze-thaw cycles, and when exposed to salt spray. One of the reasons many homeowners love this product is that it's lightweight, weighing approximately five times lighter than concrete; Evolve Stone is easy to lift and place for all applications.  
Each box of Evolve Stone flat panels covers 14.25 square feet and weighs ~ 35lbs.
The District View profile has a contemporary look with a timeless stone style. The height of each stone is 2" tall, but the stone lengths vary. This profile is perfect for small spaces or can be commonly found as a cladding stone for columns. 
This is not rated for fireplaces. View our entire collection to find Evolve Stone's entire line, including fire-rated products. 
Available in four colors: Phantom Shadow, Kodiak Mine, Morning Aspen, and Dune Point. 
Find the entire collection of Evolve Stone Products Here>
Looking for a quote for your entire project? Get a quote for your project HERE> 
FREE SHIPPING
Speak with our customer support team about your project today:
(800) 567-5358

Sales on Evolve Stone products and accessories are final and are ineligible for refund or exchange.