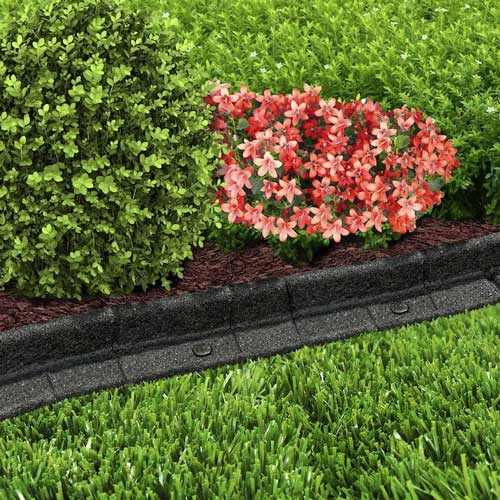 Rubber Landscape Edging 3 inch L shape - 24 ft bundle
These 24 foot long bundles of Rubber Landscape Edging are the perfect solution for separating lawns from garden areas and keeping your landscaping looking great. 
Each unit contains 6x four foot long L shaped edging pieces. The pieces measure 3" x 3" and These strips join end to end with dowel connectors and have pre-drilled holes so they can be staked into place. The stakes are included in each bundle. 
The bendable nature of the rubber edging allows for easy contouring of the landscape edge. 
Each 24' bundle comes with six 4' long L-shaped edging strips. 
Rubber Brickface Edging is made of 100% recycled rubber and because of its durable construction, will not freeze or crack due to extreme weather or temperature swings.
Rubber Edging Coverage Chart
Number of Units
Rubber Timber Perimeter Coverage
2 Bundles 
48 feet
5

Bundles

120 feet
10 

Bundles

240 feet
20

Bundles

480 feet
Each bundle comes with six rubber edging pieces. Each piece measures 4' long and comes with two anchoring pins. 
FIND ALL OF OUR RECYCLED RUBBER PRODUCTS HERE>
Please call for more product details or to chat with one of our customer support team about your project. (800) 567-5358.
EDGING SOLD IN 24' LENGTH BUNDLES. FREE SHIPPING