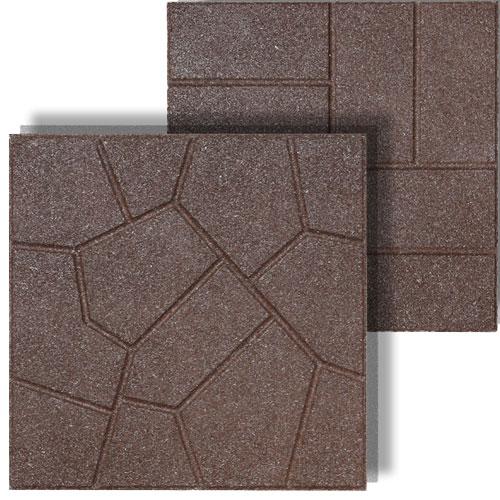 Rubberific Pavers Brown Dual Sided
Rubberific Pavers are 100% recycled rubber tiles ideal for rejuvenating patios, walkways, decks, and floors. The flexible dual-sided design on each tile enables the installer to choose either a traditional brick look or an architectural stone design.  
Each dual-sided brown tile is 16" by 16" and .77" thick. A single rubber paver will cover 1.77 square feet. A complete installation over concrete or stone flooring is typically finished in minutes with only some adhesive glue and a mallet. 
Rubberific Pavers are comfortable to walk on and provide additional shock absorption underfoot. These long-lasting and durable tiles will not crack or freeze in cold weather conditions. Additionally, the groves on the underside of each unit enable water to drain.
Note: Pavers can vary in color hue per production batch, an exact color match is not guaranteed. 
Contact us for questions or volume order questions at (800) 567-5358. 
SOLD IN MULTIPLES OF 63 OR 120 PAVERS. 
NO RETURNS ARE ACCEPTED ON RUBBER-MOLDED PRODUCTS.